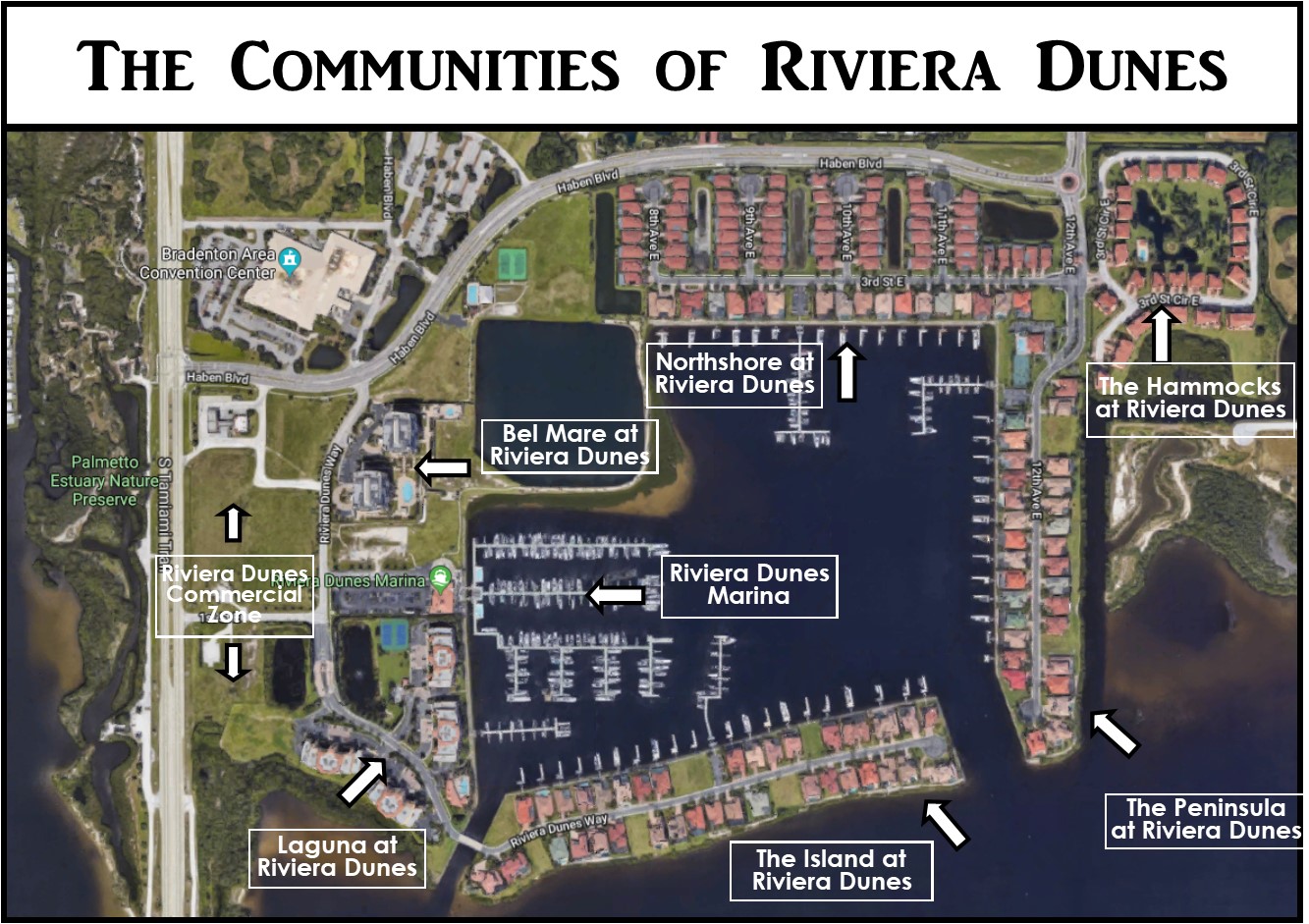 Rivera Dunes is located in beautiful, coastal Palmetto, Florida. Sitting on the northern bank of the Manatee River, this community is a landmark address. This premier location puts the residents of this community close to nearby beaches, downtown shopping, restaurants, arts and museums. Easy commute to three area airports; Sarasota, St. Pete, and Tampa. Just across the river you will find The South Florida Museum, The Manatee Performing Arts Center, Manatee Memorial Hospital, and the not to be missed: Bradenton's Riverwalk; a riverside park with strolling sidewalks, art exhibits, a skatepark and so much more. This location is central to some of the best shopping on the coast. Less than six miles away, you will find Ellenton Outlet Mall next to the Ellenton Ice and Sports Complex. Just a little jaunt south on I-75 will bring you to University Town Center a $315 million-dollar luxury mall.
The area is amazing but let's explore what's under the umbrella that is Riviera Dunes. This is a 288-acre, master planned development that offers a variety of home options within each of its six diverse communities. Riviera Dunes envelopes a rare 88 acre deep and protected harbor that sits on the banks of the Manatee River. It is an immense deep-water basin that was a once-in-a-lifetime engineering feat. It was a former dolomite mine, and the harbor bottom was graded to an 18′ deep sea bottom and two "cuts" (one navigable) were constructed to allow boaters direct access to the Manatee River, which leads to the Gulf of Mexico. The basin is located six nautical miles from the mouth of the Manatee River. Enter the river at red marker #2. Follow the clearly marked channel upriver, going under two bridges to red marker #24A. The Riviera Dunes entrance is 1/4 mile up on the North side.
Due to its harbor, Riviera Dunes has often been described as a boater's paradise, turns out – it's true! The exceptionally deep-water basin is perfect for power boaters. This harbor is the most used protected harbor on the west coast making this a premier boating venue. Boating and fishing opportunities abound through the private marina with slips to accommodate 225 boats and easy access to the Gulf of Mexico.
The gated neighborhoods include a variety of residential choices, including maintenance-free single-family homes, townhomes, condominiums, and estate homes all designed to take full advantage of this beautiful setting. Many homes are directly on the waterfront with private dockage and boat lifts.
Riviera Dunes amenities (also, available to the public) include the marina with on-site yacht broker and the Blu-Mangrove Bar and Grill. The restaurant & Lounge are known locally for its' great ambiance, delicious cocktails, and equally impressive steak and seafood offerings. There is also a section of land reserved for future commercial development between US41 and Riviera Dunes Way just south of Haben Blvd. which will eventually add even more nearby conveniences.
Now, let's explore each of these six areas. There is surely an area that is a perfect fit for your Florida lifestyle.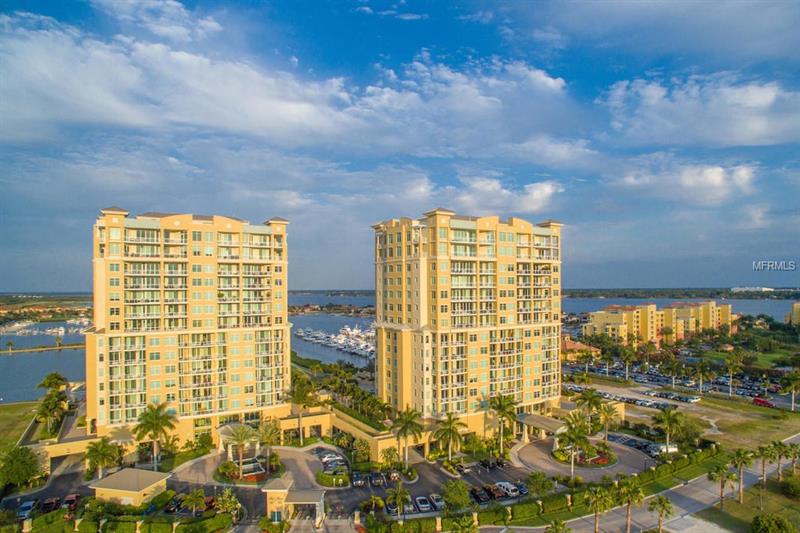 Entering Riviera Dunes from US41 at Haben Blvd. we turn southward onto Riviera Dunes Way. The Bel Mare towers stand like tall sentinels overlooking the beautiful harbor on our left. This grand condominium offers two towers that truly bring luxurious living to each of its doorsteps. This secure and gated high rise offers amazing views from large balconies and an array of amenities that go beyond "resort style." This condominium has it all and then some with amenities that rival any posh private club. Units in Bel Mare range from the 1,750 sq. ft. two bedroom/2 bath Sole floorplan to the 4,403 sq. ft. four bedroom/four bath Bella Vista Penthouse floor plan.
Within the community center you'll find a well-equipped fitness facility, a lap pool, tennis courts, pet park, a private beach area, walking trails, bocce ball/croquet courts, two additional swimming pools/spas and a volleyball court. Each fifteen-story tower dedicates the entire second floor to amenities and private air-controlled storage for residents. In each tower you can find a social gathering room complete with fireplace, TV area, wet bar and kitchen area. The billiards/card room also has its own wet bar. A theater room with a wet bar and microwave (for the must have popcorn during your movie.) The business center/conference room is an expected find, but the handyman workshop and hobby/crafting area is an unexpected pleasantry to enjoy. This condo even has guest suites for insanely inexpensive rates just for its residents, so you can have guests stay "with" you but not directly in your personal living space. Parking is covered and secured under the buildings and amenities level.The outdoor deck is complete with BBQ grills and a shade providing pavilion allowing you to take your family BBQ's to the next level. Living in the Bel Mare towers is not unlike a permanent luxury vacation. The vast array of amenities in this complex demonstrate a vision and lifestyle which is enjoyed by all residents.
View 140 Riviera Dunes Way #406 here.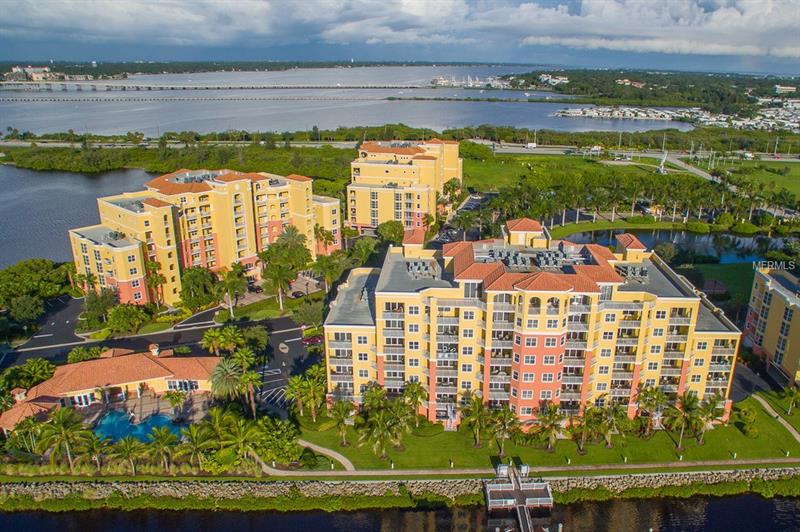 Continuing south on Rivera Dunes Way, we reach the security gates to access Laguna; a sister community to Bel Mare as it is also a community of condominiums. Laguna offers four mid-rise towers, each situated to ensure waterfront views. Two buildings with marina frontage and two buildings with river frontage offer units ranging in size from the 1,701 sq. ft. Azul floorplan to the 4,239 sq. ft. Encantada Penthouse floorplan. Each unit regardless of size offers a balcony and large floor to ceiling sliding lanai glass doors allowing lots of natural light to fill the rooms within. There are five total floorplan options the smallest Azul, is a two-bedroom, plus a den and two bath model with 1,701 sq. ft. under air and 138 sq. ft. of lanai. The Bellisima offers a similar but larger model of the Azul with 1,754 sq. ft. under air and 151 sq. ft. of lanai. The larger end units aka the Costera model is open and bright with lots of ambient light from the extended side windows. The additional third bedroom with the two bathrooms provide 2,229 sq. ft. under air along with two covered lanais. The single level option of the penthouse model's is the Del Sol. It offers three bedrooms plus a den, three full and penthouse in Laguna available is a two-story model containing three bedrooms, plus a den as well as four and a half baths, two covered lanais and an open deck.
Laguna is nicely appointed with amenities to accommodate the Florida living within a resort lifestyle. Amenities include a private marina for residents (purchased separately—availability limited) 2 tennis & pickle ball courts, a fitness center, resort style pool/spa, resident's barbeque area, a clubhouse complete with a catering ready kitchen for events and reserved under building parking.
View 611 Riviera Dunes Way #306 here.
View 615 Riviera Dunes Way #307 here.

The Island Estate Homes at Riviera Dunes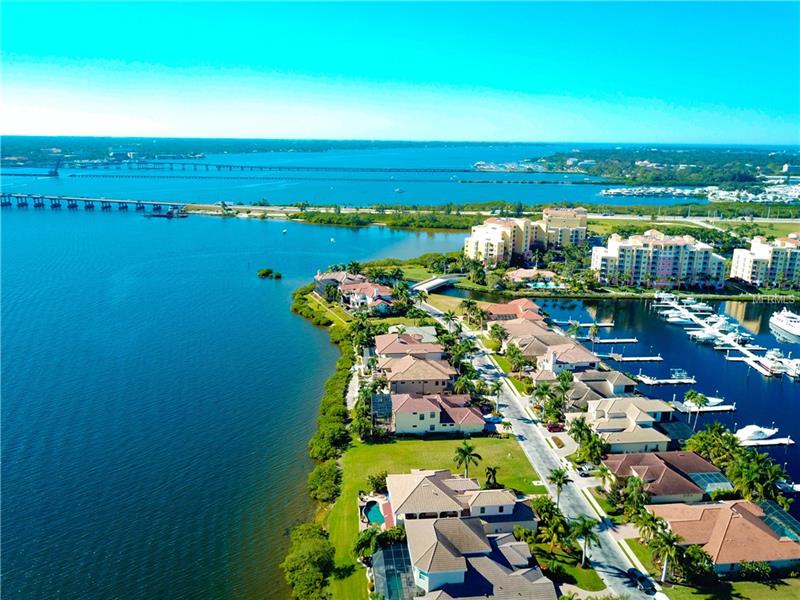 The Island is located at the end of Rivera Dunes Way. After entering the private gates to the Laguna at Riviera Dunes and Island homes access is provided by passing over the private bridge above the flushing channel for the Harbor. The Island has a limited number of available vacant lots and select number of private Estate Waterfront offerings. Each home on the north side of the road offers its own private dock within the protected basin at its back yard which will accommodate up to a 62' feet vessel length overall (bow to stern). Each home on the south side of the road offers an unobstructed direct river frontage of the Manatee River and their own private assigned dock (size of slip varies) also located in the protected basin with parking provided for ease of use. These homes are also inclusive to the amenities offered under the Riviera Dunes Master umbrella which includes a larger lap pool, tennis court, clubhouse, and fitness center. Most lots and home sites average a quarter of an acre or larger. There are still only a few lots available to build your own dream home. Each existing home constructed on the Island was a custom build for their original owners.
View the lot at 717 Riviera Dunes Way here.

Northshore access at Riviera Dunes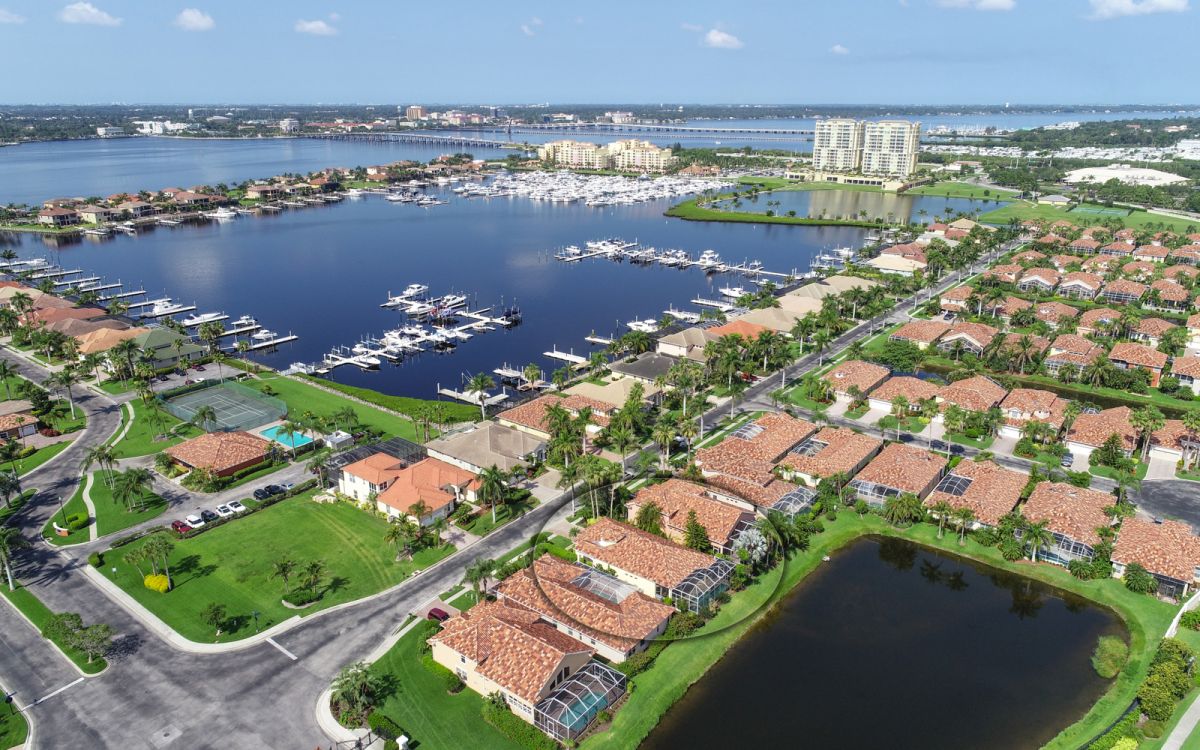 Access provided through the North gate–from Haben boulevard and US 41 follow Haben Blvd east until you reach the roundabout circle followed by a right turn onto 12th Ave E. on the south side of the circle to the gated access to all the remaining Riviera Dunes communities. Amenities include a larger lap pool, club house, fitness center and tennis court.
Northshore at Riviera Dunes
Taking a right on 3rd St. E. accesses the Northshore at Riviera Dunes community of private estate homes on the left overlooking the north shoreline of the Riviera Dunes Harbor Basin with direct Manatee River access. These single–family homes are custom built as are all single–family homes in the community with mooring in the back yard with slip length's up to 62'feet overall or available dockage at the north shore or peninsula marinas. Home sizes vary significantly and most have private pool/spa.
Northshore Maintenance Homes
The homes on the north side of 3rd St.E. are all maintenance-free homes and built so everyone has a water view. Home sizes range from 1,750 sq. ft. Up to 3,400 sq. ft. Including dockage at the two marinas (bought separately from homes or may be conveyed with the home—slip sizes vary). Those homes include yard and irrigation maintenance, painting, and access to all master association amenities. The community clubhouse is just around the corner. It is literally one driveway south on 12th Ave. E. from 3rd St E.
View 1106 3rd Street East here.
The Hammocks at Riviera Dunes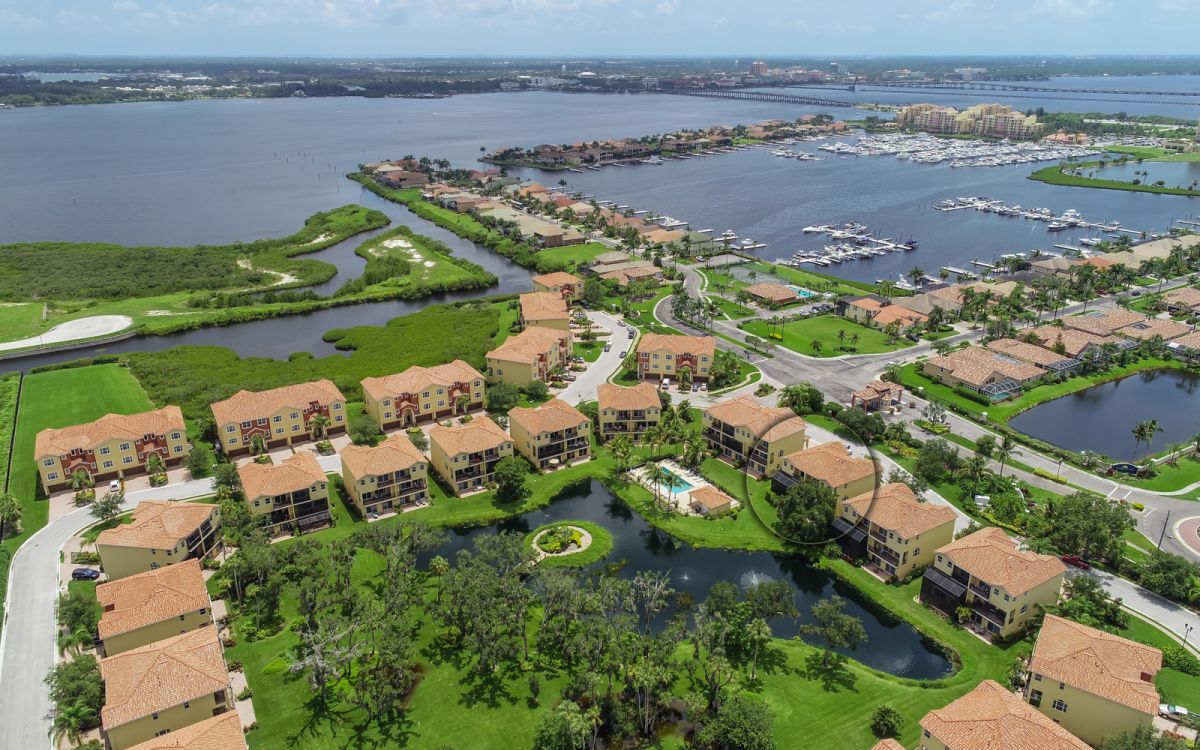 Entry into the Hammocks is straight across 12th Ave. E. from 3rd St. E. This community is comprised of 65 three-story luxury townhomes. This grouping of homes was intelligently laid out around a three-acre park. The homes encircling a large peaceful lake an old growth oak hammock thereby providing scenic views from every balcony. This lake features a man-made island with its own little park accessible by a walk-bridge. Many of the southernmost homes offer preserve views of mangrove wetlands and the Manatee River beyond. Multi-level living is made easier as each home offers a private elevator. Every home in the Hammocks offers over 2,800 sq. ft. of living space, 4 bedrooms and 4 baths in most units along with balconies on both the second as well as the third level. Most first level layouts vary in design with a larger two car garage and many with potential multi—generation living space. In addition to all Master Association amenities this community has its own additional swimming pool for residents that overlooks the lakeside. Resident boat slips for the Hammocks (sold separately or conveyed with townhomes) are easily accessible within the protected harbor have ample parking south of the clubhouse and tennis courts.
View 1612 East 3rd Street Circle here.
The Peninsula at Riviera Dunes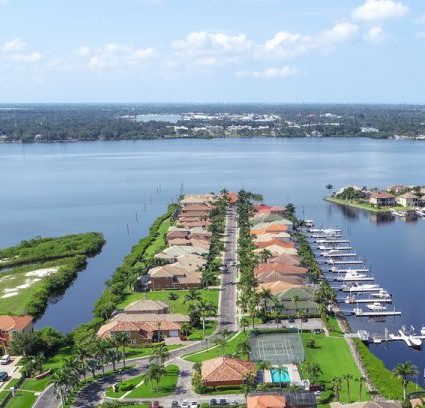 Following 12th Ave E. south you will find yourself in The Peninsula at Riviera Dunes. The Peninsula is much like The Island and Northshore properties as they are too are luxury estate homes. The homes on the West side of 12th Street offer private boat docks in their backyard while homes on the East side of the street offer unobstructed natural water views and access to their boat slips (sixes vary and are sold separately or conveyed with home) in the marina just south of the main clubhouse. These estate homes also fall under the umbrella of Rivera Dunes amenities including the resort style pool, clubhouse with catering kitchen, tennis courts, and fitness center. There are still a limited number of remaining build-able lots on the peninsula.
While Riviera Dunes seems as though it is many different and separate communities, they all exist under the Riviera Dunes Master Association. Riviera Dunes includes numerous commercial ventures (with additional enterprises to come) as well as residential living. There truly is an option for everyone within the communities at Riviera Dunes. Whether one seeks a waterfront resort lifestyle with boating access in an estate home, maintenance free living in a home, condo, townhome or even mooring space in the Private Riviera Dunes Marina. Daily life at Riviera Dunes offers community, lifestyle, a choice of luxury or freedom from maintenance so it's owners can focus on life. Living your best today, that's what this Community is all about.
Give us a call today to schedule your showing of any of the homes referenced above. We are also here to answer your questions, you can reach Joe Foster at 941-812-7634 or Jonnie Dwyer at 941-812-6283